ABOUT US
Hiraal is a general contractor and Real Estate Development company which was established in 2015 in Hargeisa and operates in Somaliland, and Somalia. Hiraal has provided turnkey solutions for our clients since its inception. We have maintained an impeccable reputation by consistently meeting and exceeding the client's expectations. Setting out as a design/build contractor, Hiraal grew steadily for the first 2 years in the residential, commercial, industrial, civil engineering and infrastructure projects markets. In 2018, the company's reputation for excellence attracted many diaspora communities and as well as prosperous Somali citizens.
Hiraal has on-staff subject matter experts in security, design and construction with decades of experience in their respective fields. Our team possess local knowledge and international expertise. The company has built many innovative private and public projects from the beginning of its operation and growing.
Sustainable construction lies in the heart of our projects and our construction processes through different phases of project life cycle are environmental friendlily.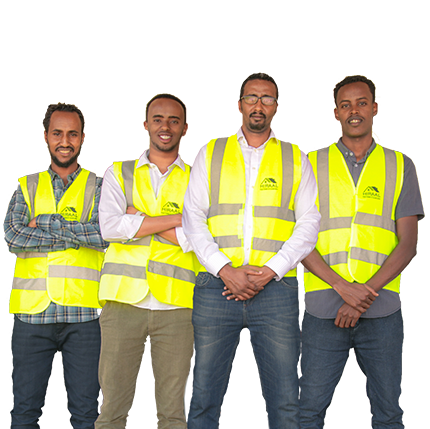 Our Mission
Our mission is to create human-centric environments and spaces that unlock the full potential of human beings and foster social change.
Our Vision
Our vision is to be the region's leading contractor and real estate developer where clients can realize their dreams.
Our Values
Client Focus
We differentiate through our tailored skills and depth of client understanding
Excellence
We strive for excellence, recognizing that excellence is defined by our clients.
Trust
We build and retain relationships of trust with our clients, colleagues and business partners.
Teamwork
We work together as a team for the Group not just the individual.
Responsibility
We take responsibility for our performance and for safety.
People
We create the environment for people to realize their potential.
Energy
We bring positive energy to the spaces we create
Our Services
Pre-construction services
As a full service company, we take responsibility of the project life cycle from the beginning to the project handover. Starting from a unique and sustainable design to pre-construction stage, and construction management.
Architecture and fine arts
Hiraal is exploring and redefining Somali architecture concept by conducting researches, organizing workshops and events. Our architecture department works closely with architects, artists, painters and musicians to bring different elements of Somali culture into buildings.
WHY US?
If you're like many of our customers, and are based out of town while your new home is being built, rest assured that you are in good hands with Hiraal. We've harnessed the latest in online builder communication platforms to keep you closely informed of progress, process, and pricing. In short, we understand that your peace of mind is paramount to a positive building experience.